Located on the cliff walk between Branksome Chine and Canford Cliffs Library, (click on map below), these gardens are the hidden gems of Canford Cliffs.  Sheltered from the wind and south facing, they are a glorious suntrap.  Extremely popular with local and holiday visitors, the beautiful surroundings are appreciated from benches which have been provided in memory of those who have enjoyed the gardens in years gone by. In addition to their intrinsic beauty, the gardens offer magnificent views out to sea, with Hengistbury Head and the Isle of Wight to the east, and the Purbecks and Old Harry Rocks to the west.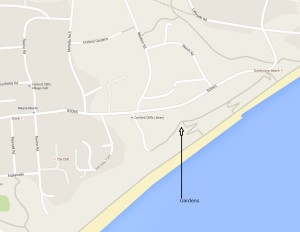 Originally constructed in the late 1920s, comprising two large rockeries and two sunken areas, the gardens were maintained by the Borough of Poole for many years.  Unfortunately, due to lack of funds the gardens became sadly neglected.
Following talks with the Council, the Residents' Association was granted a licence by the Borough of Poole to undertake work to restore the gardens.
The aim was to create a welcoming, enjoyable, peaceful and beautiful space for residents and visitors.  As a result of several years' hard work by a team of volunteers, we are pleased that this is being achieved.
However, extra volunteers are always welcome. The group meets every Tuesday morning (10:00 a.m. to midday) at the gardens during Spring, Summer and Autumn.
Currently, we have an excess of phormiums and Japanese anemones and we are in the process removing some of them, as both have become somewhat rampant.  Please let me know (e-mail address below) if you have any use for those we are discarding.
A booklet about the gardens and the work undertaken (as a pdf) can be obtained from Wayne Hancock.   (Email:   hancock.wj@gmail.com)