Branksome Park has a wealth of luxurious eating out opportunities:
Branksome Beach
With a seaview from every table, Branksome Beach is a seafood restaurant situated right on Branksome Chine beach. We offer a relaxed and friendly experience in a superb setting with stunning views across Poole Bay. With daily fresh fish dishes and the best in modern British cuisine our restaurant uses the finest locally sourced seasonal produce to create skillfully crafted into mouthwatering and inventive dishes.
Pinecliff Road, Branksome Chine, Poole, Dorset BH13 6LP
☎ 01202 767235
Cafe Shore
Café Shore defines glamour, luxury and sophistication combined with old fashioned seaside hospitality. Set on the waters edge in Sandbanks, one of Dorset's most picturesque locations, its uninterrupted views across Poole Harbour provide a stunning backdrop to a unique dining experience.
10-14 Banks Road, Sandbanks, Poole, Dorset, BH13 7QB.
☎ 01202 707271
Sorridis
Sorridi Restaurant will be temporarily closed due to unforseen circumstances.
Undeniably Sorridi's setting at the gateway to Dorset's own Garden of Eden, Compton Acres is the ideal location for perfect dining. Relaxed, informal and sophisticated, our Restaurant and Café Bar each play host to an unforgettable dining experience.
Compton Acres, 164 Canford Cliffs Road, Poole, Dorset, BH13 7ES
☎ 01202 700901
Inn on the Park
The inn is run by the owner with his family team of staff who are always on hand to make your stay enjoyable. Take advantage of our traditional pub which serves a full range of Wadworth cask conditioned ales, including the full bodied 6x. We also have an excellent selection of continental lagers, wines and spirits.

26 Pinewood Road, Branksome Park, Poole, BH13 6JS
☎ 01202 761 318
Harbour Heights
The Harbar bistro, with its panoramic views over the water and a stunning terrace, provides the perfect setting for our impressive menus. Mouth-watering menus are created daily and enhanced by our sommeliers' personal recommendations from the hotel's extensive cellar.
Fresh, seasonal and locally sourced produce is prepared daily by our dynamic and professional brigade of chefs to create the superb dishes for which this acclaimed two AA red Rosette restaurant is renowned.
Haven Road, Sandbanks, Poole, Dorset BH13 7LW
☎ 0845 337 1550
www.fjbhotels.co.uk/our-hotels/harbour-heights/
Loch Fyne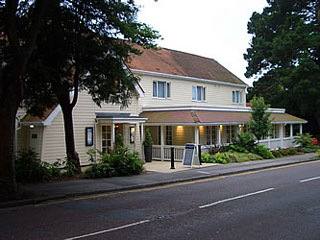 A popular addition to the Canford Cliffs area.  The menu and ambience guarantee a relaxing place to enjoy delicious, fresh seafood.
47 Haven Road, Canford Cliffs, Poole, Dorset, BH13 7LH
☎ 01202 60900
The New Beehive Hotel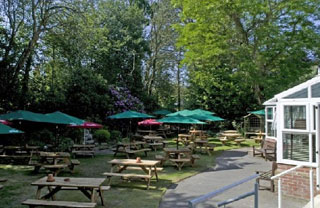 This delightful boutique hotel has been refurbished with stylish interiors throughout, offering a vibrant pub setting, which serves Bass ale and the award winning Dorset Piddle cask ales with an excellent selection of continental lagers, wines and spirits. Our bar and restaurant offer a complete range of quality home-cooked meals. We pride ourselves in promoting local produce, particularly our selection of fresh locally caught fish.
53 Cliff Drive, Poole, BH13 7JF
☎ 01202 701941
Edge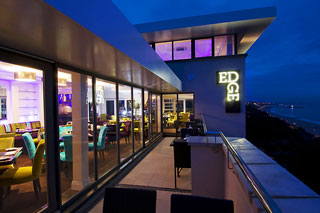 Edge Restaurant dominates the top two floors of the recently built Studland Dene development and boasts a vantage point set to rival any other in the area, with breathtaking panoramic views of the south coast.
Guests are carried in a glass elevator to the fourth floor, to enjoy modern European and contemporary British cuisine in a setting adorned with bespoke furniture and exclusive fabrics. Including an outside terrace overlooking the water, the restaurant hosts 130 covers and also offers an intimate private dining experience on the fifth floor, with 360 degree views as far as the eye can see.
4th Floor, 2 Studland Road,  Alum Chine, BH4 8JA
☎ 01202 757007
Salterns Via Veneto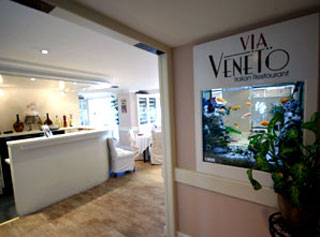 The Restaurant offers an a la carte menu of contemporary Italian cuisine for dinner or lunch. There is a terrace overlooking Poole Harbour where outside dining is offered on the warm summer days.
Salterns Harbourside Hotel, 38 Salterns Way, Lilliput, Poole, Dorset, BH14 8JR

☎ 01202 707321