h3>Restorative Justice for victim
The Parkstone, Penn Hill & Canford Cliffs Safer Neighbourhood Team (SNT) held a Restorative Justice session involving three offenders who were responsible for throwing eggs at a property. Following consultation with the victim, it was agreed that the offences should be dealt with under the new Restorative Reprimand scheme, which is being pioneered by Dorset Police. The youths listened to the victim and learned how their actions had made the victim feel. They also apologised to the victim directly, offered their pocket money to pay for cleaning the windows and offered to clean the victim's car. Restorative Reprimands such as these can be issued for low-level crimes committed by young people aged 10 to 17 years old, if they admit the offence. Unlike a usual reprimand, it brings together the offender and the victim to try to put things right.
Current Priorties
From Public meeting on 27 October 2009. You have told us that the following issues are important in your neighbourhood:
Tackling domestic and commercial burglaries
Parkins around Baden Powell and St Peters Schools
Speeding around Broadwater Avenue
Your Safer Neighbourhood Team Home Safety Checklist
Following the busy period at the start of the New Year, it is easy to forget the simple measures that ensure the safety of you, your home and your personal possessions as we head into Spring. Dorset Police is asking residents to remain vigilant and be aware of who is calling at their door, in a bid to prevent distraction burglaries. Officials from all councils across Dorset and employees of utility companies will always carry identification with them so the advice is – if you are in any doubt about the person at your door, don't let them in. All council staff are required to wear ID badges at all times which will be offered when carrying out visits. A limited number of council officials have powers to enter people's homes without prior notice. A council spokesperson said: "We would never visit a resident without good reason and only in exceptional circumstances do we visit without prior notice. If people are suspicious of anyone visiting their home they should always check they are genuine before allowing them entry. "Genuine callers do not mind being asked for identification or waiting until you have telephoned the organisation they claim to be from, to verify their details."
If someone calls at your door and you are not expecting anyone, the advice from Dorset Police is:
Stop – Before you answer the door, stop and think whether or not you are expecting anyone. Check the back door is closed and locked and remove the key.
Chain – Put the door chain or bar on the door before opening the door and always keep it on when talking to the person on your doorstep. If you can, look through a window to see who is calling.
Check – Ask for and carefully check their identity card. Take the card and close the door leaving the caller on the doorstep. Do not let them in. Do not phone the number on the card as this may be fake. If the caller states they are from the council or other authority, look the phone number up in the phone book or on a recent bill. You will then be able to check the caller is genuine. Take your time. If the caller is genuine they will be happy to wait while you do this.
Debbie Oldfield, Crime Prevention Advisor, Dorset Police, explained: "If you do get any suspicious callers at your door asking to come in, please call Dorset Police on 01202 222 222."
Safer Neighbourhoods is a commitment by Dorset Police to improving the quality of life in our communities by working together with partner agencies – including Borough of Poole and Dorset Fire and Rescue Service – to tackle the issues identified by local people as those that matter most.
Get in touch with us today to find out how you can raise your issues. This is your chance to influence the service that we, the police, and our partners provide. Your opinions are important to us – this process will not work without you.
New police station opens in Poole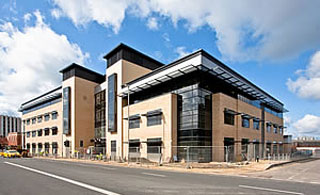 The new Poole Police Station opened its doors to the public on 17 December 2009. The station is located in the Joint Emergency Services Building on Wimborne Road, near Poole Stadium, and will be open from 7am to midnight Sunday to Thursday, and from 7am to 1am on Fridays and Saturdays.
Chief Superintendent Lynn Hart, who opened the building, said: "I'm delighted to have opened this excellent community facility. The new police station is far more welcoming and accessible to members of the public than the old police station at Poole Civic Centre. "It also provides us with improved facilities, including 10 more cell spaces, for delivering   operational policing in Poole."
The Joint Emergency Services Building is shared by Dorset Police and Dorset Fire & Rescue Service.
Priority Update
You said: vehicles are speeding in Broadwater Avenue, St Peters Road and Banks Road
We have: teamed up with colleagues from Dorset Safety Camera Partnership to conduct speed checks in these roads. Drivers found to be over the speed limit were issued with educational leaflets on the potential consequences of speeding in residential areas.
You said: anti-social behaviour is occurring in Alexandra Park, Constitution Hill and Sandbanks
We have: increased our high-visibility patrols in these areas, seized alcohol from anyone under the age of 18 and moved on those found to be engaging in anti- social behaviour.
You said: beach huts and motor vehicles are being damaged
We have: increased our high-visibility patrols and issued crime- prevention advice to beach hut owners and motorists.
Behind Bars
An unemployed man from Bournemouth has been sent to prison for three years after he attacked and injured a man in Poole.
The 23-year-old pleaded guilty to wounding with intent to cause grievous bodily harm, after the incident near Poole Quay in May 2009.
Useful contacts
Police (Emergency)            999 Crimes in progress or life threatening incidents
To give information or report an incident which is not an emergency
24 hour answerphone or email: laglo@dorset.pnn.police.uk
24/7 you can use the 'Report It' and 'Apply For It' options on the 'home' page online at www.boroughofpoole.com for any Council service issue listed below.
Police (Non-Emergency)            01202 222222
Lesbian & Gay Liaison Officer (LAGLO)            01202 269911
Borough of Poole www.boroughofpoole.com
Environmental Issues
• Abandoned vehicles • Noise nuisance • Litter bins • Fly-tipping • • Refuse collection • Dogs (strays/barking/fouling) • Graffiti – 'Report It'
Highways & Transportation Issues
• Potholes • Street lighting faults • Flooding – 'Report It' Parks & Open Spaces Issues – 'Report It'
Community Safety Issues
Anti-social behaviour – 'Report It' – email: community.safety@poole.gov.uk Community Development – email: community.development@poole.gov.uk
Social Services
Adults Help Desk – email: sshelpdesk@poole.gov.uk Children & Young People – email: childrenandfamilies@poole.gov.uk
01202 261700
01202 262200 01202 261306
01202 633516 01202 633430
01202 633902 01202 735046
Raise your issues
Safer Poole Partnership
email: safetogether@poole.gov.uk
Poole Housing Partnership (PHP)
www.yourphp.org.uk
Main Switchboard
01202 633497/633805 01202 264444 01202 633633
Citizens Advice Bureau www.citizensadvice.org.uk                  01202 680838
Home Watch Pat Halliday www.nhwdorset.org.uk 01202 700911
NHS Direct www.nhsdirect.nhs.uk 0845 46 47
Wilts & Dorset www.wdbus.co.uk                  01202 673555
Benefits Agency www.dwp.gov.uk                  01202 446000
Dorset out-of-hours medical service            0845 600 1013
www.swast.nhs.uk
Benefits Fraud www.direct.gov.uk                  01202 333000
Crimestoppers            0800 555 111
Confidential anti-terrorist hotline            0800 789 321
Next public meeting:
Surgeries:
To be confirmed. See www.dorset.police.uk for details
Canford Cliffs Library, Western Road
First Friday of every month 10:30 am – 12 pm
Parkstone Library, Britannia Road
Last Friday of every month, 10.00am-12pm
Get in Touch
Let us know what concerns you most.
Call:
01202 222 222 or 07796 678451
Write to:
Parkstone, Penn Hill & Canford Cliffs SNT Poole Police Station, Wimborne Road, Poole, BH15 2BP
Email:
pp&c.snt@dorset.pnn. police.uk
Visit www.dorset.police.uk for more opportunities to raise issues in your neighbourhood.